Reservation info for Spring Swish 2023
Spring Swish is scheduled for April 26-30, 2023! Eventbrite registration opens in March. Watch the Facebook Group and here for more info.
Spring Swish Eventbrite Reservation Link will be activated in late March 2023.
Reservations open about one month before camp. Reservations are made through Eventbrite for RV sites, tent sites, and weekend passes. RV sites are booked for the entire week (Wednesday through Sunday), and tent sites can be booked by the day. One "ticket" per day for tent sites. For example, if you're staying 2 nights, you'll purchase 2 "tickets" for tent camping. Tent site locations are first come first serve, and you are welcome to set up most anywhere. Tent sites are not assigned with reservation. RV's using the overflow/generator area will pay the Tent Site rate.
Eventbrite Link for registration will be available August 7th in the Facebook Group!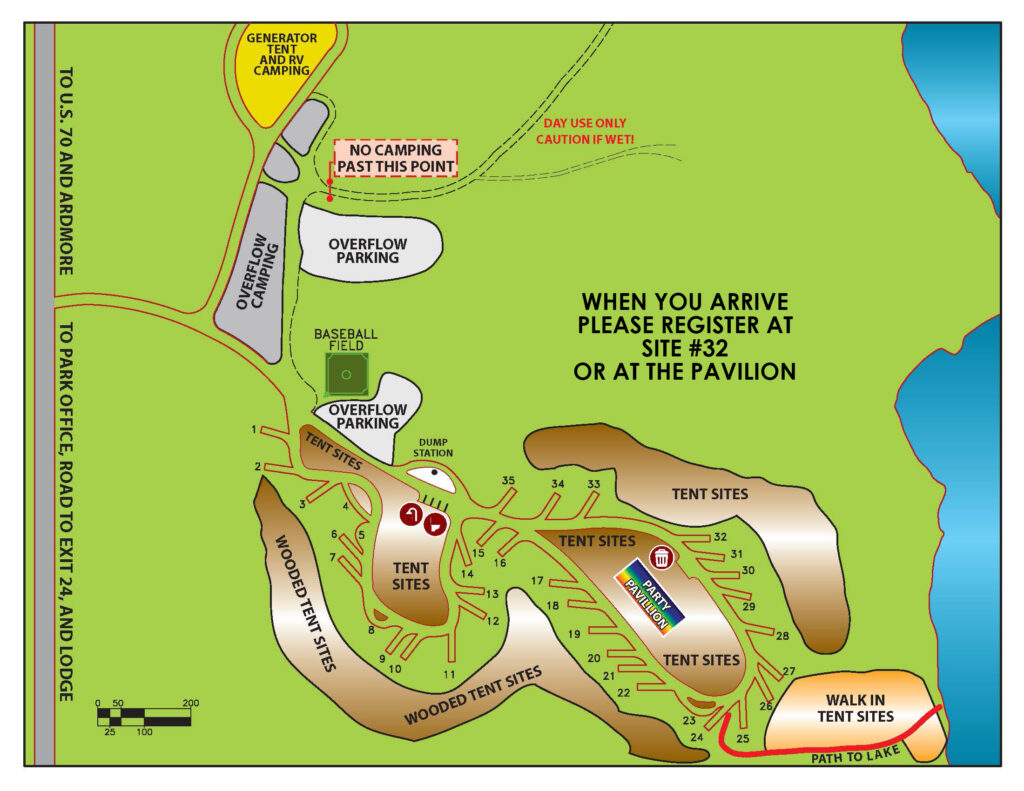 Reservation Information
Must be 21 or above to attend one of our campouts or events
Reservations are REQUIRED for the 35 RV sites with water and electric (30 and 20 amp), and reservations are preferred for the non-serviced tent sites. The non-serviced tent sites and RV/Generator overflow areas are first come first serve, but some people find it easier to just prepay.
There are hundreds of non-serviced tent sites, many with access to electricity with extension cords.
---
Camping Fees
RV Site: $116 ($124.69 total with taxes and fees) for Wednesday through Sunday (30 amp & 20 amp power and water)
Each Additional Tent for RV Site: $16 per night
Individual Tent Site or RV Overflow Non-Serviced Site: $16 Per Night.
Only One RV Per Site (Per State Park Rules)
2 people per RV/Tent: Additional people $10 Weekend Party Pass.
Weekend Visitor Party Pass: $10 Weekend good for Friday and Saturday.
Reservations
Traditionally the weather is perfect for camping. Spring Swish highs in the 80's, overnight lows in the 50's and 60's.
There are HEAPS of non-powered campsites. we have over 200 acres, so always plenty of room for Tents and Campers in non-powered sites
THERE ARE tent sites near power connections, in limited supply and they are first come first serve.
We have onsite flush toilets and hot showers
Reservation Method – Only Via Eventbrite through a link in the Facebook Group. No reservations by phone, text, Facebook post, or through the park, etc.
Problems – Send email with your name and phone number to [email protected]
Remember, there are plenty of Tent Sites near power, and the Generator Area for RV's and Tents is also available!

Once all RV sites are sold out, you can be added to the wait list in case of a last minute cancellation. To be added to the wait list, fill out the wait list google form on the Group Facebook Page.

DO NOT re-sell or post your site on the Facebook group, if you are unable to attend. Please let Adam know, and we will approach the next in line on the waiting list.

NOTE: Not many power sites open up, usually one or two.

REMEMBER: There is a large dry camping area West and Northwest of the baseball field for those who wish to camp self-sustained on RV battery, Generator, and stored water and there are hundreds of tent camping areas available, many with nearby access to power. RV campers using the overflow area will pay tent rate per night for their RV, since no park services (electric/water) are offered

NO REFUNDS OR CANCELLATIONS.